The Town of Arcola Council meets one Tuesday per month at the Town Office located at 127 Main Street.
Contact 306-455-2212 or arcadmin@sasktel.net to add an item to the agenda.
Get to know the Council members by reading some Q&A below.
Click the photos to enlarge.
Christie Hislop B.B.A. – Town Administrator
Why did you want to become a town administrator? I have family that's been in administrative positions. My uncle has been for a long time and my dad works for the town in Pilot Butte, where I grew up. They talked to me about its benefits and the experience you can gain, and it quickly interested me. When the position came up it worked out well because I had just moved to the area.
What's the best part of your job? I like the challenge. That's my favourite part. The amount of work you do here, I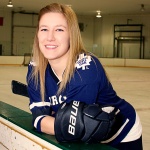 don't just do one thing. I do accounts payable, receivable, I do accounting, I deal with the public…I really like the challenge. Every day is different!
What's something people might not know about the job? We have to deal with the Government of Canada and the Government of Saskatchewan with grants and that is a huge process. It's very detailed and difficult to get done.
You've been in Arcola a while now. What do you like about the town? There is so much to like about Arcola! The heritage and all the old buildings really are a site to see! Also the sense of community we have here is great! There are so many volunteer organizations that rally together and do so much for the community. And of course the people! There are so many wonderful people in town and it really shows.
What are your hobbies? Since I could walk, I've dressed head to toe in Maple Leafs stuff. My dad's a huge hockey fan and so I grew up with that. Sledding is another huge hobby and that's also another thing I love about here, the hills. The park is really nice to go sledding and we are lucky to have it so close!
Keith Erick – Mayor
Clay Chapman – Councillor
Elaine Hislop – Councillor
Cindy Kolenz – Councillor
Scott Tessier – Councillor
Geordan Workman – Councillor
Jennifer Wotta – Councillor